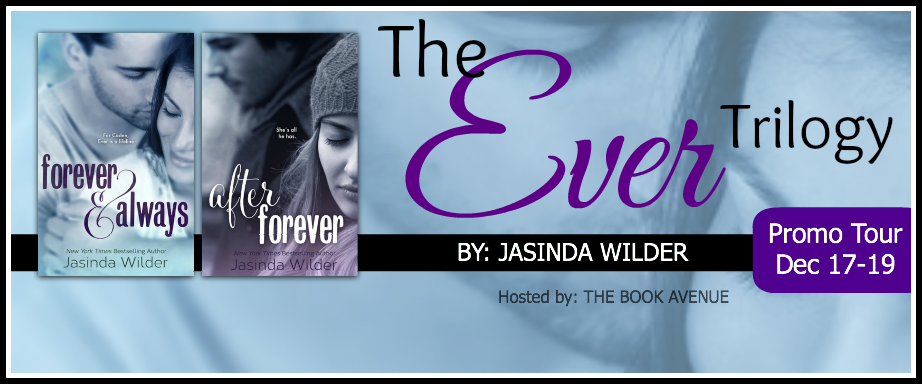 The Ever Trilogy is here!
Forever & Always ~ After Forever ~ Saving Forever
"So, grab some tissues… wine… a pint of häagen-dazs peanut butter and chocolate ice cream… whatever you think will get you through this roller coaster ride of emotions because I promise you will need something, but every emotion you feel while on this ride is so completely and utterly worth it. You do not want to miss out on this 5 star, MUST READ book!" ~Bookslapped
 
"Once again, Jasinda has given us an emotional roller coaster that is a MUST read."~ Smut Book Club
"Forever & Always was joyful, heartbreaking, breathtaking, angsty, hopeful and sexy."~ The Book Blog
"Each page bleeds emotion, heartbreak, tragedy and a deep-seated need for connection. This story is a journey."~ Vilma's Book Blog 
"Jasinda has a gift. She can wring you out emotionally one minute, make you swoon the next, make you all hot and bothered then make you cry again. Yet it all is wrapped up in an unputdownable package of realistic characters that you can't help but love."~ Ana's Attic Book Blog
 
"The letters, inked with affection, pure emotion, genuine and honest – a brilliant masterpiece. Jasinda Wilder, this, my love, was pure genius!" ~ Brandi's Bookshelf
***************************************
Merry almost Christmas! I can't believe that time of year is here already. Last year at this time, I was trying to rewrite Rock Stars Do It Forever all over again because my computer died and took that whole manuscript with it. Do any of you remember that? #goodtimes
It sure looks like Christmas in northern Michigan today! We got a ton of snow last night and it's the perfect day to snuggle up with a warm drink, a Christmas cookie and a good book. May I suggest my new book(s)?
Forever and Always the first book of the trilogy, released last night and it already getting some amazing reviews! Thank you so much in advance for reviewing. After Forever is now LIVE at Amazon and B&N. It will be delayed at iTunes and Kobo because they are on a holiday shutdown. I will post links on Facebook, Twitter, and my website as soon as they go live. I've also put up a preorder for book 3, Saving Forever. That book will release on February 14th. I'm so excited for you to read this series! In my opinion, this is some of the best writing I've ever done and some of my most captivating characters. I hope you agree. Links are below!
Happy reading, Merry Christmas, and Happy New Year from all of the Wilder family. 
Purchase LINKS to buy book 1, Forever & Always!
To buy from Amazon US click HERE
To buy from Amazon UK click HERE
To buy from Amazon CA click HERE
To buy from B&N click HERE
To buy from iTunes click HERE
To buy from Kobo click HERE
Purchase LINKS for After Forever 
To buy from Amazon http://amzn.to/1i8g6lN
To buy from B&N click HERE
Paperback:
Forever & Always: http://amzn.to/19fUeSY
After Forever: http://amzn.to/191tX59
Preorder book 3 from Amazon US HERE
Please also check out my new website www.jasindawilder.com  for several events coming up where I would LOVE to see you.
Posted
by