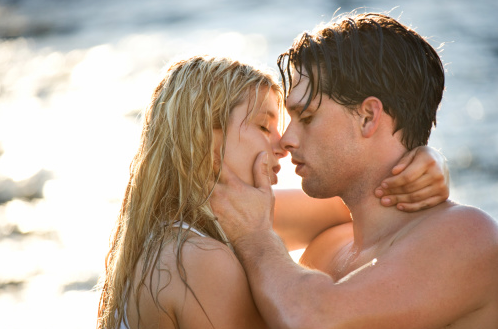 My legs wrap around his torso, holding him to me. My arms snake around his neck; he's supporting himself partially out of the water with the strength of his arms alone.
His face is level with mine, his mouth slanting, closing in. "Stop me," he whispers.
I exhale, my palm touching his jaw, and I close the distance between my lips and his.
God, god, god.
Lips alone, at first. Meeting, moving, melding. Then his tongue and mine venture out in the same moment, touch and tangle. Things jangle in the back of my head. Warning flags flap and klaxons blare, but they're stilled and silenced by the taste of his mouth, by the solidity of his waist between my legs, his stomach pressing teasingly against my damp aching core, that long-ignored part of me.
Oh, there've been any number of time over the years when my fingers have eased the ache in the long nights alone, but that is so, so inadequate. Dreams and fantasies cannot begin to compare to the heat and strength of a man's body against your flesh, of his mouth on yours, his chest hair tickling and scratching, his stubble scraping your upper lip and chin as you kiss and the way you can feel his muscles rippling and shifting as he begins his conquest to possess you.
When he arches his back and hovers over you, palm beside your ear, breath on your cheek, in that moment, all those sensations fade to background beauty, because the sole focus of your existence is the thick hard presence of his cock against your softest place, and you feel yourself wet and warm and ready for him, aching for him, needing him, needing to feel that perfect soul-swelling fullness, the completion of being joined.
A breath and the slightest shift of muscles are all that stand between us.
My hands are on his back, on his shoulders, caressing and smoothing in circles, pulling, sliding from shoulder blades to the broad expanse of his back. Balance shifts, and I fall backward to the grass, blades pricking my shoulders, and my hands find the hard swell of his taut ass. He's above me, still kissing me, totally out of the water now, one knee between my thighs. One hand supports him, planted in the turf beside my face, the other sweeping up the curve of my waist to my breast, sagged to the side by gravity.
They were once high and firm, my tits. Pregnancy swelled them, milk stretched them, nursing changed them. There's a moment of discomfort, embarrassment, self-consciousness. That moment is erased by his palm against the weighted side of my boob, lifting it, caressing it reverently.
His mouth leaves mine.
Descends. Lips touch my clavicle.
"You are…so beautiful." His words float up to me, make me swallow hard against the sudden glut of emotions charging through me.
I haven't felt beautiful or feminine in so, so long. Four words, a heartfelt compliment, the wonder rife in his tone making it clear he means it down to the depths of his desire. Four little words, and I'm wrecked.
Early reviews:
"Jack and Jasinda Wilder have "Captured" me with this amazing story. Not only is it incredibly suspenseful and fast paced, at it's core it is essentially a fantastically written romance with all the grit and steam you can imagine. This book gets five wickedly wild stars, and I hope this is not the last collaboration book between this husband and wife team." – Three Chicks and Their Books  
"Be prepared for a rush of emotions.  All the feelings. Every. Last. One.  This is a roller-coaster ride.  Jack and Jasinda are the power couple of words, using multiple layered stories to create reading bliss.  Captured is a stand-alone but is told alongside its predecessor, Wounded.  Wounded was impressive but Captured will captivate your heart.  By far this is my top Wilder read." – The Book Avenue Review
Preorder links:
Amazon: http://amzn.to/1rsTGgx
iBooks: https://itunes.apple.com/us/book/captured/id902847213?mt=11&ign-mpt=uo%3D4
Kobo: http://store.kobobooks.com/en-US/ebook/captured-41
Posted
by