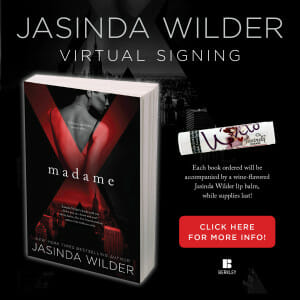 I'm thrilled to announce I'll be doing a Virtual Signing for the release of MADAME X this October with Schuler Books.
Please place your order by Friday, September 4th!
Signed, personalized copies are available to both U.S. and international readers. Readers outside of North America will need to email the bookstore directly at orders@schulerbooks.com for information about international payments and shipping rates.
All orders will ship the week of October 5, 2015. U.S. readers will have the option to choose expedited shipping. Each reader may purchase up to two signed books.
All you have to do is buy a book through the Schuler Books website using this link:
Preorder a personalized copy of MADAME X. (http://www.schulerbooks.com/product/madame-x-jasinda-wilder)
Also, for each book purchased, the reader will receive a Jasinda Wilder wine-flavored lip balm! One lip balm will be shipped with each book.
Please see below for more details before placing your order.
Virtual Signing FAQ
What is a Virtual Signing?
A virtual signing is a way to get a personalized signed copy of a book when you are unable to attend an in-store book signing. You will order the book through the Schuler Books website, indicate who you would like the book signed to, and the store will get it signed and shipped out to you shortly after the book's release date.
Will I get my copy of MADAME X the same day it is released?
All orders will ship out the week of October 5th. If you live in the U.S. you will have the option to choose an expedited shipping method.
Will Jasinda write a personalized message besides just my name (or a name I designate)?
Jasinda will write your name or whoever you want the book inscribed to and her signature. You may also request a special message, such as "Happy Birthday", "Merry Christmas", etc.
After you place your book order, there is a comments box on the payment page. Please indicate in that comments box how you would like your book inscribed. This is where you will put the name you would like Jasinda to sign the book to. Example: "Please sign to Martha" or just "Martha". You may also request, "Please sign 'Happy Birthday, Sarah!'" If you do not want your book personalized, please indicate that you would like an autograph only. If you make no indication either way, Jasinda will sign your book but there will be no personalization.
** Please note that personalization is at Jasinda's discretion. Please do not make inappropriate or offensive requests. **
May I order more than one book and have each signed to a different person?
Yes!
I ordered two books. Does that mean I get two lip balms?
Yes!
I forgot to write anything in the comments box…what happens now?
Please contact Schuler Books at 616-942-2561 or orders@schulerbooks.com and they will be able to add it to your order. If you don't contact Schuler Books then your book will be signed by Jasinda, but it will have no name inscribed.
Do you have an order or purchasing question that isn't answered here?
Please contact Schuler Books at 616-942-2561 or orders@schulerbooks.com
xoxo
Jasinda
Posted
by