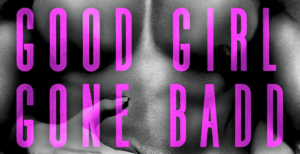 Evangeline du Maurier is the definition of a good girl. Attending Yale, raised with the best tutors and etiquette instructors, she's expected to toe the family line and be a trophy wife for a future senator. But when this good girl takes a quick getaway to clear her head, she finds a whole lot more than she'd bargained for. She finds herself in the arms of a bad boy.
Baxter Badd.
Big, hard-drinking, and as rough and demanding in bed as he is out of it, Bax may be the baddest brother yet…
Click here to download GOOD GIRL GONE BADD now!
Sales, audio updates, upcoming releases, and events… OH MY!
BADD MOTHERF*CKER is on sale for the first time ever for only 99 cents at all retailers! Make sure to tell yo mama, friends, and anyone else you love that the book that launched the bestselling series is on sale now for a limited time. We don't want anyone to miss out on Sebastian Badd!
We are also uploading BADD ASS and BADD TO THE BONE for audio right now and hope that Audible will have them up for you soon. I just finished listening, and I can't wait for you to hear them too! Thanks so much for being patient as we got these books produced for you this summer; it will be worth the wait, I promise!
We are currently working on book two of THE ONE series and hope to have that published late summer or early fall. We really love this trilogy and hope you will too.
Lastly, we are working hard on our travel schedule for 2017-18. We can't wait to see you! Make sure to stay updated on where we will be when on our website: www.jasindawilder.com 
We hope to bring the WILDER SANDWICH your way soon.
We can't thank you enough for the support of our books. Happy reading and have a good weekend.
Peace, love, and ponies!
Jasinda and Jack too!
Posted
by